Options to sell your construction business
We hope to shed some light on the questions business owners have of what their construction business is worth, how they can sell it, what happens to their employees and what does it cost.
To get an accurate picture for your business, you need to understand the various portions of the market and who serves them.
Main street construction business or contractor (Less than $1M annual profit)
This is the smallest and most crowded portion of the market is for Mom & Pop contractors and small businesses. When you sell a construction company that is under $1m in profit, you may struggle in finding a buyer. Or at least one that has the necessary capital. Businesses this size are likely run and sold by the owner/founder/operator. This is the same person that has a license. 
Not only do you need to find the right person to buy your business, you need to hope they have cash and credit and they are willing to take out a personally guaranteed loan to buy the business. You'll find that this may be a difficult task.
How do you sell it:
Selling your construction company with a business broker. Stick with someone who has a proven track record of success with construction businesses and shy away from brokers who charge an up-front retainer. Even when you get a reputable broker to represent you, it may take well over a year to sell, or may not sell at all (most don't sell).
Sell a construction business directly to a current employee. If you have a younger, proven employee who is capable of taking over your business, they may be able to obtain SBA acquisition financing to purchase the business from you.
Sell to a competitor. Instead of butting heads with your business, a competitor could make you an acquisition offer to buy your team, brand name, website, equipment and facilities. They may be able to pay you over the course of a couple years or utilize SBA acquisition loans to buy you out with cash.
What's it worth:
Here are some of the prominent factors that will contribute to your businesses value.
Desirable type of construction
Clean tax returns and financial statements
Reputable management team in place
Great reputation
How populated your geographic region is
Growth rate
Defensive industry
Broad client base
Recurring contracts
Ability to stay through a transition period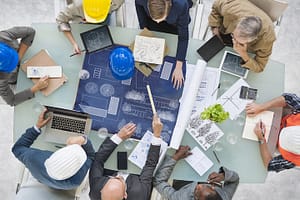 Lower mid-market construction business ($1M - $10M annual profit)
The mid-market and in particular the lower mid-market is seen as the wild west in M&A circles. That is one of the reasons that we at Minerva have selected it as the size to do all of our deals in. These businesses are typically too large for individual buyers and are typically too small for investment groups and private equity companies to get a meaningful return on their investment.
How do you sell it:
There are occasionally individual buyers that will be able to put a suitable down payment on a business in this range. Combined with some financing from the SBA, they may be able to make a purchase. While optimal, these deals are rare.
Sell a construction company to a competitor. If you have a competitor that is large enough to pay for and manage your business, this can be an optimal buyer. However, too often they only smell blood in the water and instead of making an offer, they will double down on marketing in an attempt to get your clientele.
Selling your construction business with a mid-market broker or boutique investment bank. Suitable offers for businesses this size are even more rare than deals for main street businesses. Numbers have been published saying that as high as 85% of businesses under $10M in profit won't sell when listed with a broker. While we haven't seen proof to validate this claim, our experience in this portion of the market is enough to validate it in our opinion. Brokers and investment banks may help close a deal or two, but just because you hired a banker and paid $100K retainer up-front, don't count it as being sold.
Sell your construction business directly to Minerva. We are neither an investment company, nor a competitor. Our business is in helping business sellers transfer their business to a future generation. This means we will hire a manager, recapitalize the business, add our consulting, accounting and legal resources to the business and take a percentage of the equity. The seller of course gets paid (typically higher than they would get elsewhere). Typically they will get 35% paid up-front, 35% paid over a few years and a royalty amounting to 30%. We will also invite the seller's to maintain an equity stake ongoing if they would like.
What's it worth:
Here are some of the prominent factors that will contribute to your construction businesses value.
Asset light construction (or other desirable industry)
Recurring revenue streams
CPA prepared, accrual based financials
Reputable management team in place
Great reputation
How populated your geographic region is
Defensive industry
Ability to stay through a transition period
Mid-market & above construction business (Over $10M annual profit)
While disposition can prove tricky and downright difficult for main street businesses and lower mid-market businesses, construction companies netting over $10M per year in profit should have no problem selling with the help of a reputable investment bank. The process of selling a construction business typically proves to take longer than selling other types of companies.
How do you sell it:
Selling your construction company with a mid-market investment bank. Suitable offers for businesses in the mid market are much more frequent than they are for smaller businesses. However, you can count on paying an investment banker, auditor, appraiser and lender well over $1M by the time it is said and done.
Selling your business directly to a strategic buyer. This buyer could be a direct competitor, a supplier or even a construction company in an adjacent industry that is looking for exposure to yours.
What's it worth:
Unlike the lower mid-market and main street businesses, the mid-market and public markets are much more efficient, especially the construction industry. If the construction business is large enough to go public, that is how it will fetch the highest dollar in most situations. If it is somewhere over $10M profit but too small to go public, the investment bank will either accept bids from private equity firm or approach a couple firms directly to solicit an offer without seeking offers on the public market.
Ultimately, you as the seller will likely have a couple deals to browse through and they will most likely be between 3 – 4.5 X annual profit. You can read more about valuation in our construction business valuation multiples blog.